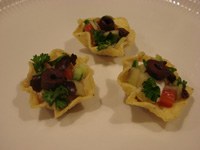 Moroccan Hummus Cups
1 7oz container of plain hummus spread
1 Tbsp Moroccan Rub (see recipe below)
1/3 cup plain yogurt
1 plum tomato (de-seeded and diced)
1 2" piece of seeded cucumber (diced)
1/4 cup pitted kalamata olives (diced)
2 Tbsp packed fresh parsley leaves (chopped)
24 miniature tortilla chip cups
Moroccan Rub
2 Tbsp paprika
1 tsp each: salt & sugar
1/2 tsp each: pepper, ginger, cardamom, cumin, fenugreek, cloves, cinnamon,
allspice, cayenne
1. combine hummus, Moroccan rub, and yogurt in a bowl - attach a star tip to
an easy decorator and fill with hummus mixture.
2. Slice tomato in half, scrape out seeds, and dice
3. Slice cucumber; cut slices into strips and dice
4. Coarsely chop olives and parsley.
5. Combine tomato, cucumber, olives and parsley. Mix well
6. Pipe hummus into tortilla cups
7. Divide cucumber mixture evenly among cups
Tip: hummus and cucumber mixture can be made a head of time and easily put
together for this crispy treat. They do start to sog after an hour.