Stephen Henning
"I enjoy quiet, natural surroundings that are far away from the noisy demands of everyday life. I strive to capture impressions of the fleeting beauty of such places that are uncluttered by man, whether it be a wilderness waterway illuminated by the morning light or an abandoned pasture bathed in the colors of evening. My primary artistic goal is to provide a pleasing, peacful image that can be brought indoors, a sort of escape portal where one's mind is free to stretch and dance. I prefer to create large paintings that make a big impact and are easy to "step into." Once your eye has entered one of my paintings, you will be entertained by a wide spectrum of colors that are built up in many overlapping layers or intertwining brushstrokes, a playground of hue, value, and varying texture that gives a rich depth to a seemingly simple scene".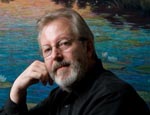 EARLY YEARS
Stephen Henning was mentored since his youth by the famous portrait artist Gene Ritchie Monohan and pioneer conservationist Ernest Oberholtzer, both. residents of Rainy Lake, on Minnesota's Canadian border. Well-known Twin Cities graphic artists Bill Stein (Artifex Studio) and Bob Blewett (Decision magazine) also were important to his artistic growth. Henning received formal art training at the Minneapolis College of Art & Design, and the University of Minnesota. Art historian Barbara Kerwer (Minneapolis Institute of Art) also has been an inspirational force in his artistic education.
ART CAREER
Henning was an award-winning graphic designer, art director and marketing consultant in Minneapolis for almost 20 years before taking up his paint brush on a full-time basis in March 1995. Today his original paintings, oil pastels, and art reproductions hang in homes, businesses, galleries and museums around the world.
THE ARTS ARE FOR EVERYONE
His first public exhibition, in January 1996, was so successful that Banfill-Locke Center for the Arts made him an Honorary Board Member. At about the same time, Henning also founded the Evansville Arts Coalition and served as its president for 12 years. Committed to making the arts - in all forms - accessible to more people, Henning has been artist-in-residence at many rural Minnesota schools, has championed funding and support for many arts programs, and served on the Board of Directors of COMPAS for six years. He helped establish a marketing consortium of nonprofit arts organizations, and has been a public speaker on economic development and the arts at several statewide conferences.
Click here for Original Artwork by Stephen Henning
12141

-

Edgewater




by Stephen Henning. Print edition size is 450, signed and numbered.

Image 18.25"H X 34"W
| ITEM | DESCRIPTION | PRICE | QUANTITY | PURCHASE | FAVORITE |
| --- | --- | --- | --- | --- | --- |