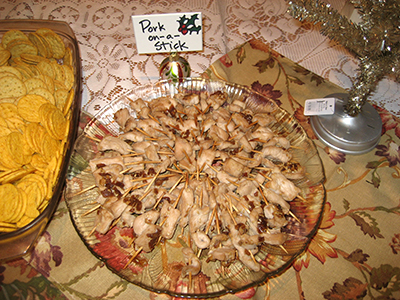 Spicy Pork Strips
1 pound boneless pork chops, 1/2 inch thick
1/3 cup soy sauce
1/4 cup green onions and tops
1 tablespoon sugar
1 tablespoon sesame seed, toasted
3 tablespoons water
1.5 teaspoons minced fresh ginger root
1 teaspoon Tabasco pepper sauce
1 clove garlic, minced
Slice pork into 1/4 inch strips, about 4 inches long. thread onto metal or bamboo skewers, keeping meat as flat as possible. Arrange skewers in a large shallow pan.
Blend soy sauce, green onions, sesame seed, water, ginger, Tabasco sauce and garlic, stirring until sugar dissolves. Pour mixture evenly over skewers; turn over to coat all sides. Let stand 30 minutes, turning skewers over occasionally.
Reserving marinade, remove skewers and place on rack of broiler pan; brush with reserved marinade. Broil 3 minutes, or until pork is tender, turning once and basting with additional marinade.
Yield: 6 to 8 appetizer servings. From Carol