About the artist: Darrell Bush paints a variety of subjects ranging from wildlife to landscapes, seascapes, nostalgia and even an occasional still-life. One element echoing through all of his art is the luminescent presence of light. Light, whether man-made or natural, creates a mood and helps convey the story.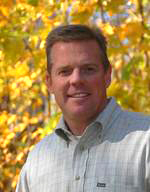 Born in Illinois, Darrell Bush enjoyed the outdoors with his family, spending much of his time in the wild. Subsequently, Darrell Bush's first paintings as a teenager were landscapes and nature scenes.

In 1984, after graduating with a bachelor of fine arts degree in commercial art from Northern Illinois University, Bush moved to Minnesota and worked as a commercial illustrator for five years. "It was during this time I began pursuing a second career: my true love, wildlife art," he said.

In 1987, Bush won his first major award: the Idaho Upland Game Stamp. In 1990, Darrell Bush became a full-time artist. U.S. Art named Darrell Bush among America's Top 12 Most Popular Artists in 1995 and 1996, the results of annual surveys. The same publication also named him a Rising Star in 1995. He received international recognition when he was chosen as an artist for the September, 1996 Wonders of Nature exhibit in Hong Kong.

Darrell Bush's work has also been juried into many fine art shows where he has received several "Best of Show" awards. Accomplishments in the young artist's career include being named Artist of the Year for the 1997 Wildlife, Western and Americana Art Exhibit and Sale.

He has completed several conservation projects including the 1996 National Fish and Wildlife Print and several state hunting stamps and prints. With a total of nine fund-raising prints, several of which have been commissioned by Ducks Unlimited, the artist remains an active member of The National Audubon Society and Ducks Unlimited. The publications Wildlife Art, U.S. Art, Midwest Today, Minnesota Water fowler, Cabelas and Gander Mountain have all featured Darrell Bush's art.