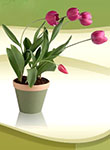 Current Events also see Links below to area attractions !
Our 16th annual "The Gathering" event was held on Saturday October 14th 2017 from 3-6PM. There was lots to eat and enjoy. Lots of shopping fun too! Door prizes, free gift wrapping, new holiday merchandise, free gifts with purchase and much more. Our customers were sent invitations to the event. When they came with a food shelf donation, their invitation became 30% off coupon!
This year we we raised $1092 and collected over 200# of food for the Crosslake Food Shelf!!
The appetizers we served this year were to-die-for! Please scroll down this page to the "The Gathering Recipes" for links to the recipes.
Here are a few pics of the event.
The event truly was a success thanks to all the help we received from friends and employees. We can't thank you enough. Here's the crew. You guys are awesome!!!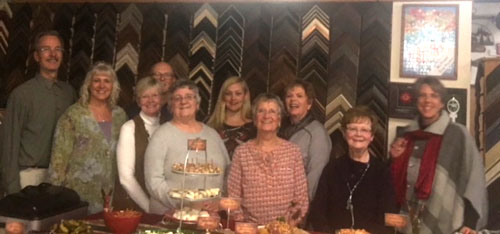 Crosslake Days 2017
We served 475 people and they loved our chili! Could this be a winner?......................... Darn! We didn't win but click here for our Campfire Chili Recipe.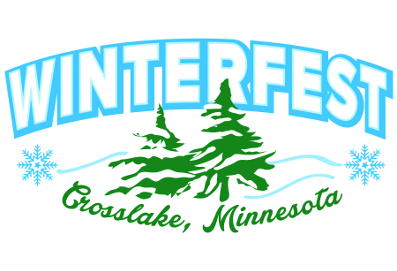 Bundle up the kids and bring your sleds and ice skates on Friday evening, February 3rd 2017, to enjoy a huge snow mountain and pond skating! The whole family can take part in the scavenger hunt, games, roast a s'more and sip hot cocoa while enjoying a fantastic fireworks display! Drop the kids off with a sitter and enjoy a date night in Crosslake with live music and DJ entertainment at several Crosslake establishments! Rise and shine Saturday morning for the Firefighters pancake breakfast before taking part in the days activities including Ice Car Racing, Bocce Ball Tournament, Helicopter Rides, Radar Runs, Italian Olympics, Kids Games, shopping, food and drink specials all over town plus the 14th Annual SoupFest. Plus lots more to do! Click here for more info!
Kristi is making an Olive Garden favorite "Zuppa Toscana" soup for SoupFest! The tasting starts at noon until gone. Click the link above for soup locations and complete event info. Click here for Kristi's Soup Recipe!

The 42nd Annual Crosslake St Patrick's Day Parade March 12th 2016
You don't have to be Irish to appreciate all the excitement associated with this decades-long tradition! Dust off the lawn chairs, get your Irish face on and load up the whole family as there is something for all ages in Crosslake for this 42nd Celebration! Gather your family and friends and search for the Pot 'O Gold beginning Thursday, March 10 2016. Register for The Clover Dash 5K which takes place on Saturday, March 12th. The race begins and ends in Crosslake's Town Square, so after the race you're in the perfect spot for pre-parade entertainment and more! Purchase a Raffle ticket for a chance to win prizes and show your Blinkie Button for deals and discounts all over town! Then mark your calendar and attend the Raffle Drawing Party on Thursday, March 17th at Zorbaz where lucky tickets will be drawn for prizes worth thousands of dollars from local merchants.
On Saturday March 12th, The Dirty Shorts Brass Band will be playing in Town Square from 11:30am to 1:30pm. They are a New Orleans style brass band, playing everything from jazz to Dixie to funk to blues. Raffertys Pizza and Maucieries Food and Beer garden will be there as well. Stop in and see us at Lakes Area Gallery for our Blinkie Button Special, "30% off storewide!"
Town Square is an awesome spot to see the parade. We have lots of parking and bathrooms. Remember, the parade starts here so you will see lots of participants and floats in the line up before parade start at 2:00pm. Click for more info!
13th Annual Crosslake Winterfest Feb 5th & 6th 2016
We hope you didn't miss all the activities on Friday and Saturday. There was pond skating, smores, bonfire, fireworks and much more! And of course, the Soup Cookoff! Participating restaurants and merchants served soup for you to vote on the best tasting. All you needed to do was get a map and make the rounds!
Kristi made Lasagna Soup! (Joe cut up all the vegetables) We served it with shredded cheese and it was delicious. Click on this link for the recipe Lasagna Soup.
Check out these favorite recipes:
9th Annual Crosslake Winterfest Feb 3rd & 4th 2012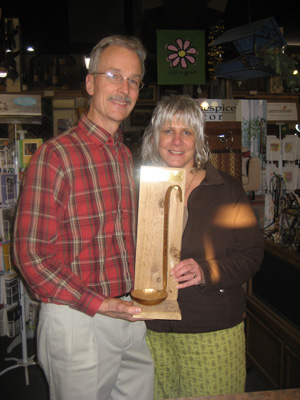 We hope you didn't miss all the activities on Friday and Saturday. There was pond skating, smores, bonfire, helicopter rides and much more!
And of course, the Soup Cookoff! Participating restaurants and merchants served soup for you to vote on the best tasting. All you needed to do was purchase a $3 commemorative soup mug and make the rounds!
That's right! We Bad! Again!! Lakes Area Gallery won! We won the Soup Cookoff with Kristi's Marsala Mushroom Soup.
This is our fourth win in five years. Stop in and see "The Golden Ladle" traveling trophy!
Thank you to everyone who voted for us. It makes all the work worthwhile. We made 3 large roasters of soup and ran out in 1 1/2 hours! Thanks to the many tasters.
Click this link to get the recipe for Lakes Area Gallery's Marsala Mushroom Soup
37th Annual St Patrick's Day Parade in Crosslake
The parade was held on Saturday March 12th 2011 at 2PM. The weather was cold and windy! Nevertheless, people had spring fever and many showed for the parade and events.
Town Square was hosting The Regular Crowd Band. They were to play before the parade from noon to 2PM. It was just too cold! They had to cancel. Maucieries brought in a food and green beer garden into Town Square.
There were lots of "unique" and creative floats. Lots of candy for the kids and lots of events all weekend long. It's the one day of the year that everyone is Irish!
Pictured are (l to r) Mayor Darrell Schneider, Grand Marshal Ted Pederson, Event Chair Joe Kraemer, and Grand Marshal Terry Pederson. Pic taken in float line-up just before the start of Parade.
Look how everyone is bundled up! We weren't going to let the cold tamp down our enthusiasm.
If you missed it, mark the following date for next year! The 38th Annual St Patrick's Day Parade in Crosslake will be Saturday March 18th, 2012 at 2PM. Hope to see you! Check out some of the the parade pics below.
Black Friday!!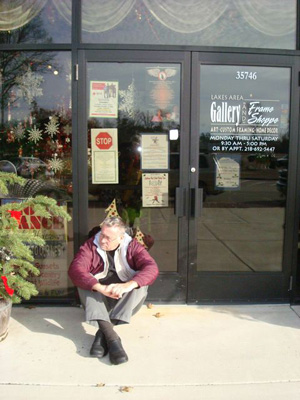 Crosslake has Black Friday too! This is a pic of Rod N. waiting for Lakes Area Gallery to open. Not exactly the lines or trampling like a big box store but every bit worth waiting for.
We had fantastic store specials like "buy one, get one" plus Santa's elves in the back gift wrapping.
There's still lots of chances to get a great deal at Lakes Area Gallery. We'll be open every Thursday evening 'til 7pm up to Christmas (not Christmas Eve).
We'll be running specials every week and as always, free gift wrapping!
"The Gathering" Recipes:
Mini Bacon Ranch Cheese Balls 2017
Wild Jack Cheese and Wild Rice Mini Meatballs 2017
Cranberry Mustard Dipping Sauce 2017
Garlic Cheese Bombs 2017
Coconut Pie Bars 2014
Rueben Dip 2014
Hot Spinach Dip 2014
Oreo Truffles 2013
Orange and Chile-Spiced Olives 2013
Wassail 2014
Katie and Mary's Cake Balls 2013
Tortellini Tapas with Spicy Ranch Dip 2012
Coconut Thumbprint Cookies with Salted Caramel 2012
Sue's Snack Mix 2012
Bananas Foster Crunch Mix 2011
White Chocolate Brie Cups 2011
Rassmadip 2013
Peanut and Banana Cupcakes 2011
Pecan Caramel Bars 2011
Candy Corn Whipped Frosting 2011
Antipasto squares 2010 (Camp Knutson Recipe)
Party Pretzels 2010 (Camp Knutson Recipe)
Chunky Apple Cake 2010 (Camp Knutson Recipe)
Hot Spinach Artichoke Dip 2010
Pickled Sunnies 2010
Apple Pie Bars 2010
Bishop's Bread 2010
Snow-Capped Chocolate Crinkles 2010
Sausage Ryes 2010
Cayenne Pretzels2014
Hot Corn Dip 2009
Festive Apple Dip 2009
Colorful Marinated Olive Kabobs 2009
Roast Beef Pinwheels 2009
Moroccan Hummus Cups 2009
Popper Pizzas 2009
More Lakes Area Gallery Recipes
There were so many people asking for the recipes, we decided to post them on the website. Click on the following links to take you to each recipe. (print with Landscape setting in your print preferences)
Boilermaker Tailgate Chili (Chili Cook-Off Winner!)
Marsala Mushroom Soup (winner 2012 soup cook-off)
Cheeseburger Soup (winner 2011 soup cook-off)
Kristi's Bars (April's most requested recipe!)
Check out these LINKS to area attractions and information!!